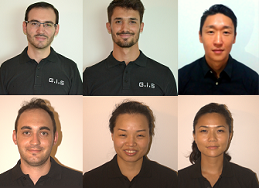 Guangdong inspection was created in 2007 in Shenzhen, Guangdong Province, P.R.C.
Our team of 12 inspectors is composed of engineers, technicians and businessmen, who understand your needs.
Our team is includes Chinese and foreign inspectors, all having several years of experience in their fields. Our goal is to help you to save money and time by detecting the slightest problem at the earliest.
That's why all our members have technical and human abilities to conduct quality control and factory audits in all over China.
Thanks to this HR we can cover many fields of productions such as plastic injection, electronic, LED, wood, house ware, furniture, leather, sport goods, toys etc..
In addition to our quality inspection service, we try to give our clients as many advices as we can to help them to conduct their business in China.
Thanks to our professionalism many clients have been following us for many years.

Why choosing us:
● Perfect knowledge of the Guangdong province and its manufacturing / business environment.

● Engineering background, great knowledge of most industries.

● Efficiency and flexibility: we can be onsite anywhere in China in few hours.

● Availability: you can get in touch with our inspectors during inspections.

● Confidentiality: this is a key of our partnership with you and it goes through the signature of a non-disclosure agreement.

Our Location:

● Our office and inspectors are located in Guangzhou, Dongguan, Huizhou and Shenzhen.

● We can also cover inspection throughout mainland China within 24 hours.