GuangdongInspection® proposes you to assess the risks of your purchase and if necessary to improve the performances of your suppliers. We propose you three kinds of audits: First Assessment Audit, Monitoring Audit and Social Audit. Contact us to arrange your audit.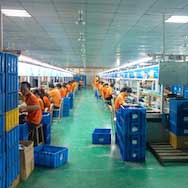 Is your supplier reliable? What about its production capacities? and its management? In order to make a clear picture of the situation of your future partner you can make an audit. We assess the factory's capabilities according to the ISO9001 standards.
Learn more about first assessment audit in China...