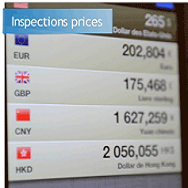 ● Quality controls: from $275 per control.
● Audits: from $265 per audit.
● Order follow up: from $390 per project.
● Investigation Services: from USD 160 per verification.
● Other services: please contact us.
Payments are normally done at agreement's signature.
Price includes:
● Full control/audit.
● Transportation.
● Preparation of the report according to your requirements.
● Report display by email or by phone.
For production follow up the pricing includes 1 audit, 1 inspection and daily follow up with all partners (factory, forwarder...) of the project within a limit of 35 days.
Payment method:
● banking transfert
● Paypal
● Bitcoin