GuangdongInspection® proposes you to assess the risks of your purchase and if necessary to improve the performances of your suppliers. We propose you three kinds of audits: First Assessment Audit, Monitoring Audit and Social Audit. Contact us to arrange your audit in Asia.
Audit Services: Monitoring Audit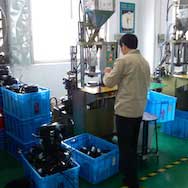 What is a Full Monitoring Audit (FMA)?
The Full Monitoring Audit is usually requested by our clients prior to ordering from a new supplier. The factory audit takes two-days and is performed at the production site.
What does FMA offer?
The Full Monitoring Audit is performed according to ISO 9001 by a professional inspector to provide assurance that your Chinese supplier's practices and procedures meets your organization's standards. This extensive factory audit gives you a deeper look into your supplier's business background. If you would like to establish a long-term strategic sourcing relationship with a quality supplier, then an FMA would be a good place to start.
Overview

:
● Avoid poorly performing suppliers.
● Make better sourcing decisions
● Audit suppliers for proper documentation (i.e. certificates and licenses).
● Evaluate your supplier's manufacturing capabilities and quality procedures
● Get a comprehensive review of your supplier's practices and procedures
What do we look for during a FMA?
The FMA will be conducted by a professional auditor according to ISO 9001 standards. This audit includes a full analysis of your potential supplier:
● Factory Profile: business name, contact information, licenses/certifications etc.
● Human Resources: management, quality control, personnel.
● Premises Audit: offices, factory equipment, production lines etc.
● Clientele and History: business experience, production samples, etc.
● Proper Documentation: licenses, certificates etc.
● Management Practices
● Design
● Purchasing Practices
● Storage
● Inspection
● Production
● Final Inspection & Testing
● Control Measures & Equipment Testing
● Resource Management
● Continual Improvement
● Corporate Social Responsibility (CSR)
● Environmental Stewardship