Follow up package (Supplier Audit + QC)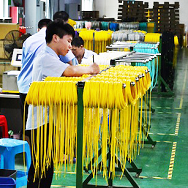 You're running out of time, and you rather spend your time selling your products? We propose you to follow your order from before its signature up to the delivery, our service is always tailor made.
If you would like to take advantage of our several inspection services, then feel free to contact us below. We are ready to assist you with your project at any moment's notice. Guangdong Inspection Services (GIS®) guarantees a painless, straightforward, and professional inspection service from start to finish. And kindly remember, the earlier the production process is monitored by a quality control / a factory evaluation, the better your organization can benefit.
Our Standard Offering:
<![if !supportLists]>● <![endif]> 2 Factory Inspections (Full Monitoring Audit + Quality Control)
<![if !supportLists]>● <![endif]> Daily Reporting and Communication of all indicators.
<![if !supportLists]>● <![endif]> For projects culminating up to 35 days at time.
<![if !supportLists]>● <![endif]>Fee: USD 390/project.
Examples of products that we inspect:
Furnitures quality control,
LED display quality control,
LED lightning quality control,
LCD display quality control,
Sport equipment quality control
Promotional items quality control,
Plastic components quality control,
Aluminum parts quality control,
Quality control of solar panels,
Quality control of wood products,
Electronic cigarettes quality Control,
Quality Control of jewelry,
Quality control of mobile phones
Where do we audit?
We carry out inspections / Chinese factory audits in most cities of China:
Audit in Shenzhen, Audit in Dongguan, Audit in Guangzhou (Canton), Audit in Foshan, Audit in Zhongshan, Audit in Zhuhai, Audit in Ningbo, Audit in Shanghai, Audit in Qingdao, Audit in Shenzhen, Audit in Tianjin, Audit in Wenzhou, Audit in Shenzen.